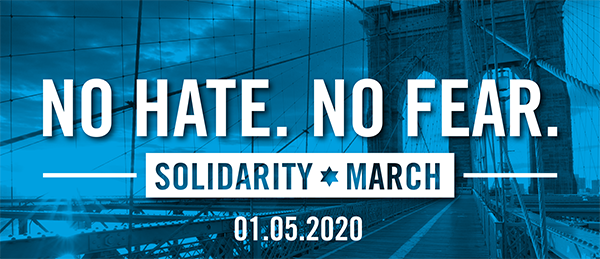 Dear New York Campus Community,
Please join HUC-JIR and the URJ at the "No Hate. No Fear." march and rally this Sunday, January 5. We will assemble as a group on Duane Street, just east of Broadway, starting at 10:30 am. We will walk together at 10:50 am to Foley Square, one block away, where we will assemble to march over the Brooklyn Bridge to Columbus Park in Brooklyn for a rally. This is our opportunity to stand in solidarity with all sectors of the Jewish community, and our allies, to respond to hate and violence with pride, strength, and peace.
I hope to see you there.
Yours in hope,
David

MONSEY. BROOKLYN. JERSEY CITY.
When anti-Semitism strikes our community, we stand up and stand together.
This Sunday, we will march through our streets — proud, united, and strong.
The 1.5 million Jews of our great city and region will not stand down. We will not be intimidated.
We invite New Yorkers of every background to stand with us and say no to hate and no to fear.
JOIN US.
Meet at Foley Square at 11:00 am.
We will march across the Brooklyn Bridge to Cadman Plaza.
Visit ujafedny.org/MarchNYC for up-to-the-minute details.
#JewishAndProud #StandTogether