Dear HUC-JIR Community,
In recent days, you have likely heard intensifying reports about the coronavirus (COVID-19) that originated in Wuhan, China and which has now been detected in 37 locations internationally, including cases in the United States. On January 31, 2020, Health and Human Services Secretary Alex M. Azar II declared a public health emergency (PHE) for the United States to aid the nation's healthcare community in responding to COVID-19. While the threat to the HUC-JIR community currently is considered low, outbreaks of novel virus infections among people are always of public health concern.
We are writing today to provide a general update as well as specific instructions instructions if you plan to visit China or recently traveled to Wuhan. Since information regarding this disease is changing quickly, we advise you to check the CDC website for the most up-to-date details and guidance.
As of this week, the U.S. government has taken unprecedented steps with respect to travel in response to the growing public health threat posed by this new coronavirus:
As of February 2, the U.S. government suspended entry of foreign nationals who have been in China within the past 14 days.
CDC has issued the travel guidance related to COVID-19.
U.S. citizens, residents, and their immediate family members who have been in Hubei province and other parts of mainland China are allowed to enter the United States, but they are subject to health monitoring and possible quarantine for up to 14 days.
CDC also recommends that all travelers reconsider cruise ship voyages into or within Asia at this time
If you have recently been to Wuhan or have possibly come in contact with an infected individual AND you exhibit a mild to severe respiratory illness with any of the following symptoms, please seek medical assistance through your primary care physician immediately:
Fever
Shortness of breath
Cough
If you are planning travel abroad, remember to:
Visit your primary care physician in advance for current travel health and vaccination recommendations.
Enroll in the State Department's Smart Traveler Enrollment Program, or STEP, to receive current embassy alerts and messages for your destinations.
The best preventative steps for any communicable disease include simple but important measures to practice as part of your daily routine, but especially during flu season:
Avoid close contact with people who are sick.
Avoid touching your eyes, nose, and mouth with unwashed hands.
Clean your hands often with an alcohol-based hand sanitizer that contains at least 60-95% alcohol or wash your hands with soap and water for at least 20 seconds.
Avoid sharing anything that has come in contact with saliva, whether in your living, work, or social environments.
Cough and sneeze into your elbow or a tissue.
Get adequate sleep and eat well-balanced meals to ensure a healthy immune system.
If you are sick, to keep from spreading respiratory illness to others, you should:
Stay at home except to get medical care. If you have symptoms of acute respiratory illness please stay home and do not come to work until you are free of fever (100.4° F [37.8° C] or greater using an oral thermometer), signs of a fever, and any other symptoms for at least 24 hours, without the use of fever-reducing or other symptom-altering medicines (e.g. cough suppressants). Employees should notify their supervisor and stay home if they are sick.
Separate yourself from other people and animals in your home.
Cover your cough or sneeze with a tissue, then throw the tissue in the trash.
Clean and disinfect frequently touched objects and surfaces.
Find more information and additional FAQs here on coronavirus and how to stay safe.
We will continue to closely monitor this evolving global public health situation and are committed to keeping you informed of the best way to stay healthy as events develop. Thank you to everyone who is working together to keep our HUC-JIR community safe and healthy.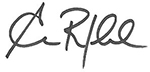 Andrew Rehfeld, Ph.D.
President