Dear Staff,
Two weeks ago, HUC adopted an emergency leave policy that secured your positions for two weeks, no matter what your work was, to allow us to assess the scope of this crisis. As the scope and scale of the pandemic expands, the College-Institute is now facing the prospect of a significant decline in most sources of our revenue. Over the next few weeks, we will be moving from the immediacy of crisis-management towards looking at longer terms options aimed at preparing us for long term sustainability.
Because of the strength of the institution, we are not in an immediate crisis. And because of that, it is our plan to extend our initial emergency leave policy in order to keep our entire staff whole through at least the end of May: no layoffs, no furloughs, and no change to salary or benefits during this time.
This document explains our revised policy in detail, and has been crafted to ensure that you remain eligible for any future government support should it be necessary. Please understand that, owing to the nature of law and policy, it is a bit complicated. Because of that, we will be holding a Town Hall Q&A to answer any questions you may have on Friday, March 27 at 11 am ET:
Join Zoom Meeting
https://zoom.us/j/788652134
Meeting ID: 788 652 134
One tap mobile
+16465588656,,788652134# US (New York)
Our ability to provide you continued support right now is possible only because of the philanthropic support of donors who believe in our mission. Their support of our mission is an expression of their support for you, for you are the lifeblood of our institution, you are what allows us to prepare moral and religious leadership that will inspire our world.
I take our responsibility to you as a sacred one. We will continue to do what we can to bring some stability and security to you and your families, particularly in these first moments of uncertainty. We will maintain this as long as possible, even as we recognize the challenges of our economic situation going forward.
Thank you for your commitment and dedication. May we all weather the coming storm knowing that we are truly stronger together.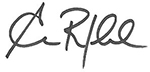 Andrew Rehfeld, Ph.D.
President