Dear HUC-JIR Community,
As the global COVID-19 pandemic has unfolded, I have been struck by the sacred leadership our entire community has demonstrated in this unprecedented moment of challenge and uncertainty. Each of us has borne the challenges of new ways of learning and teaching, working and connecting with one another, even as we manage our own personal and family challenges. We have done so by taking actions that do not merely protect ourselves; they are designed to protect the most vulnerable among us.
In this way, our entire community has demonstrated strong moral and religious leadership by promoting the public good, even at great personal cost.
As I end my first year as your president, I cannot begin to tell you how proud and moved I have been watching our entire community rise to meet this defining moment. I have seen students form virtual communities to support one another in these times of isolation. I have seen faculty embrace distance learning with technology that is sometimes alien to them. I have watched our administrative leadership work tirelessly for over two weeks to anticipate and support a major shift to distance learning and operational disruption. And I have been deeply affected by the dedication of our staff who have ensured continuity of support for the sacred work of learning and teaching that we do every day.
In short, I have been profoundly inspired by the personal sacrifice that each of you has demonstrated, at the same time as you continue to struggle with the challenges this pandemic poses to you and your families.
It is now clear that the crisis upon us is likely to be of considerable duration, stretching weeks and months ahead.
This past Sunday, the Centers for Disease Control issued a recommendation that gatherings of more than 50 individuals should not take place for the next 8 weeks. Most models of the pandemic now extend well into May, if not later. Therefore, many major gatherings around the world that had been scheduled into the summer are in danger of postponement and cancellation. We are in the process of assessing what that means for our institution over the weeks and months ahead, and we will continue to communicate with you as we face these challenges together.
We do now find ourselves in a very difficult and disappointing position regarding our scheduled stateside Ordination and Graduation Ceremonies this May. As we continue to model responsible public leadership, we have made the hard decision to postpone all public culminating ceremonies in May. Holding such public ceremonies as planned would put each of you, our faculty and administration, and your guests at risk. Additionally, it would impose a coercive force upon the support workers we rely on to do our work— maintenance, security, and housekeeping — to show up and be at risk or fear losing their jobs for declining this work at a time of enormous economic insecurity.
We know this will come as a great disappointment after so many years of hard work and anticipation.
The Ordination ceremony itself is a powerful culminating ritual that publicly celebrates the transmission of sacred leadership to those who have earned their place as rabbis and cantors in Israel. Similarly, Graduation ritually marks the culmination of years of study. Both must be celebrated in an appropriate manner, and I promise that we will hold a ceremony in person as soon as it is safe and feasible to do so.
For those of you studying to be rabbis or cantors, I want to assure you that your legal status as clergy is conferred to you not through the ordination ceremony itself, but through official documentation from the College-Institute that certifies that you merit the title of cantor or rabbi following the completion a requisite course of studies. Because that documentation is conferred to you by the faculty and Board of Governors, as represented by the President, Provost, and Chair of the Board, we can and will grant that certification (and corresponding legal status) to you as of the date of your originally scheduled ceremony, even in the absence of a public event.
Similarly, those of you set to graduate in May will formally become graduates on the dates of your scheduled graduation. We will have more details about the nature of this documentation as well as a distribution of degrees and appropriate certificates in the coming weeks.
Since the coronavirus pandemic will prevent us from holding Ordination and Graduation in New York, Los Angeles, and Cincinnati in May as planned, we find ourselves in the position of doing what the Jewish people have done for thousands of years in the face of hardship and unexpected situations: we need to innovate. To that end, by March 25 Provost Andrea Weiss will appoint a Task Force comprised of faculty and students from all three campuses charged with establishing alternatives and issuing recommendations to her and me by April 13. Our plan is to make a final decision by the end of Passover. More details will follow next week. (And I want to recognize the many students throughout our programs, including Cohort 7 of the Executive M.A. Program, who have already communicated their ideas to appropriate leadership in just the last 48 hours.)
In the meantime, we ask that you hold the dates and times of your original Ordination and Graduation Ceremonies as scheduled. This will allow the Task Force to retain the option of convening some kind of virtual ceremony at that time, should that be a path they want to pursue as part of an alternative approach.
The COVID-19 pandemic is forcing us to face situations none of us could have foreseen and to innovate in ways that none of us could have imagined, even just a few weeks or days ago. This will require our continued creativity and collaboration as we rethink what Ordination and Graduation means and how we can mark this culminating moment in your formation as cantors and rabbis, educators, scholars, and nonprofit professionals with sanctity and celebration.
Given the leadership and fortitude that you have exhibited throughout your time at the College-Institute, and even just in the last few weeks, I am confident that you, and we as an institution, will rise to meet this challenge.
B'shalom,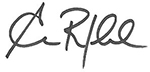 Andrew Rehfeld, Ph.D.
President