February 15, 2021
Dear HUC Community,
Hebrew Union College-Jewish Institute of Religion must meet the highest ethical standards throughout our institution to properly fulfill our mission of training the next generations of religious leaders and scholars.
Over the past few years, the growing awareness of problems that compromised the integrity of the milieu in which we teach, learn, and work together demanded action. Therefore, in September 2019, we announced the formation of a Presidential Task Force on Safe and Respectful Environments, setting this as a priority within the first six months of my presidency.
The Task Force was launched in January 2020. Headed by Rabbi Dvora E. Weisberg, Ph.D., Rabbinical School Director and Rabbi Aaron D. Panken Professor of Rabbinics, and Richard Feldman, Ph.D., former President and current University Professor of Philosophy at the University of Rochester, it is comprised of faculty, students, and alumni representing the gender, racial, religious and other diversity of those who make up our learning community.
The Task Force was charged with presenting a Report in June 2021, but has been successful in completing their work much sooner. We are pleased to present their Report today.
The Report details a thoughtful and deliberate approach to propelling change. It outlines the Task Force's process; summarizes concerns about equity and inclusiveness regarding gender identity, race, ability, power dynamics, political viewpoint, gender equity and other important personal characteristics; and surveys HUC policies related to diversity, inclusiveness, and campus climate. Its findings and recommendations include drafting a Code of Civility; enhancing orientation, training, and educational programs; providing an understanding of the expression of HUC values in public statements; strengthening the organization, presentation, and administration of policies; reviewing admissions policies; enhancing support for all students; and implementing further engagement with staff and other constituencies.
Eight key deliverables determined by the Report have already been accomplished:
The appointment of Rabbi Andrew Goodman as the Director of Student Support in the Office of the Provost. Rabbi Goodman is responsible for ensuring compliance with the Americans with Disabilities Act, meeting the needs of students in all programs who require learning accommodations, providing training to faculty, and working with liaisons on each campus to improve strategies for overall student success.
Dr. Taj Smith, Director of Diversity Education at Rochester Institute of Technology and a Diversity, Equity, and Inclusion (DEI) consultant, has been engaged on a short-term assignment to guide our next steps. During the coming two months and building on the work of the Task Force, Dr. Smith will develop an action plan, including both short- and long-term initiatives that the College can implement.
Three DEI trainings have been conducted for the Board of Governors and HUC's senior administration.
The staff-initiated Hineinu Kaleidoscope Collective (HKC) has been launched to create and hold space for colleagues of color and their allies and celebrate all types of diversity while working toward racial and ethnic diversity.
The institutional process of statement-making has been formalized and publicized.
HUC's policies and handbooks are posted on our website and continue to be reviewed and updated on a regular basis.
An 8-month-long series of online learning programs has been launched to implement public education as social change by deepening our understanding of race and identity and our roles in civil society.
The Boards of Overseers will be renamed as Boards of Advisors to eliminate a term that perpetuates racist associations with the era of slavery.
We express gratitude to the members of the Task Force for their dedication to this process and for their comprehensive Report that provides tangible steps to move us forward.
This work is both urgent and important, and we must continuously strive to get it right. It requires an ongoing, steady approach to listening and learning in order to change our culture and align our actions to the core ethical commitments of our institution. In addition to the student and faculty focus of this Report, it is essential that the staff's concerns be addressed in next steps.
As noted in our announcement of June 30, 2020, we must continue to combat all abuses of power, bias, and discrimination, including on the basis of race, religion, gender, sexual orientation, gender identity, physical or mental disabilities, national origin, and other important personal characteristics. It is our sacred responsibility to create a safe and respectful environment at the College-Institute, recognizing that all of us, in all of our diversity, are created b'tzelem Elohim, in the image of God.
Let us join together to implement the Task Force's recommendations and fulfill our shared values as partners in a learning community that is welcoming, inclusive, supportive, and dedicated to human rights and justice for all.


Sue Neuman Hochberg
Chair, Board of Governors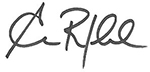 Andrew Rehfeld, Ph.D.
President